Please note that the European Tour with Onslaught and Artillery has been CANCELLED. Sincere apologies for the inconvenience.
Steve 'Zetro' Souza explains it all in this exclusive interview with Dave Halbe for MetalRecusants.
As you have already heard, Steve is back with Exodus, but will continue with Hatriot, he stated in a recent interview with MetalRecusants: "I want to repeat again that even though I'm in Exodus now I'm still doing Hatriot, I'm not letting that go, there's been a lot of voices out there lately saying I'm gonna let it go and I'm not. The band's (Hatriot) working on some new stuff right now and I plan on writing new lyrics when I'm out on tour with Exodus, Suicidal Tendencies and Slayer. There's a lot of down time on tour and I'm an early riser, I'm used to it from working, I'm up at 6:30-7:00 in the morning every day. There are only so many movies you can see, tracks you can run, you know?"
Hatriot confirmed for Thrash Invasion Tour 2014 with Onslaught & Artillery
Update, 6/25/14: Please note that this tour has been CANCELLED.
Hatriot will be hitting the road in July with Onslaught and Artillery for the 'Thrash Invasion (UK/Ireland) Tour 2014′!
Check our the 'Tour Dates' section of the site for more info.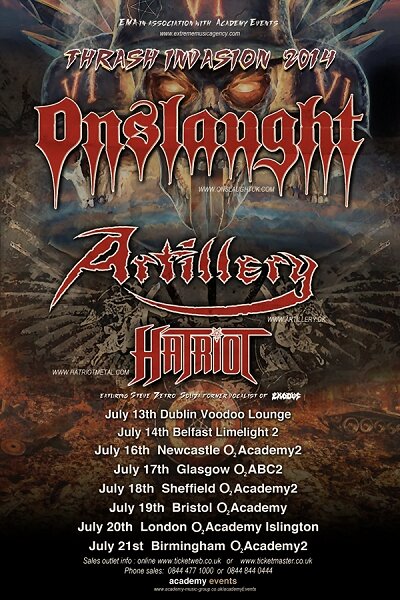 Check out the Eindhoven Metal Meeting 2013 Official Trailer.
Hatriot performs on December 12th, 2013 – don't miss it!
DEC 12 Eindhoven Metal Meeting – Eindhoven, Netherlands
DEC 13 @ Scum – Katwijk, Netherlands
DEC 14 @ Verlichte Geest – Roeselare, Belgium
Hatriot is confirmed for Eindhoven Metal Meeting 2013 – Eindhoven, NL on December 12th! The guys are excited! This will be Hatriot's very first performance in Europe.