EXODUS Announces Exclusive VIP Packs in Conjunction with Upcoming Scion-Presented SLAYER Tour w/ Special Guests SUICIDAL TENDENCIES and EXODUS
New Album "Blood In Blood Out" – Out this Fall via Nuclear Blast
Exodus 2014
This fall, Bay Area thrash legends EXODUS will support fellow metal titans Slayer and Suicidal Tendencies on the Scion-sponsored fall leg of their United States onslaught. The tour begins on November 12th in Oakland, CA at The Fox Theater and will tour throughout the states, coming to close in Detroit, MI at The Fillmore on December 5th. Tickets go on sale to the public this Friday, June 27th at 10:00AM (local time).
"This monumental tour is a heavy metal collision of epic proportions! For my first tour back with EXODUS, I'm beyond excited to be on the road with my brothers in true thrash metal! I'm also looking forward to meeting and hanging out with all of the fans on this heavy as hell tour," states newly returning vocalist Zetro.
Due to an overwhelmingly positive response, EXODUS is making VIP experience packages available for the entire tour. The packages are scheduled to go on sale this Friday! Fans are encouraged to get them as soon as possible, as VIP package sales will close seven days prior to each show day. To purchase VIP packages via SLOtix.com – click *here*.
**If you already purchased your ticket and would like to be part of the EXODUS VIP package experience, contact SLOtix customer service at 888-756-4849 or .
EXODUS MEET & GREET PACKAGE
Package to include:
- One Premium Reserved ticket OR One General Admission Ticket with early entry to venue
- Meet & Greet with select members of EXODUS
- Autographed EXODUS Poster
- EXODUS tour T-Shirt
- Collectible EXODUS laminate to remember your evening
- Coupon for 25% discount at the online EXODUS merchandise store
- Onsite check-in staff
Attendees will be included in a giveaway for an autographed Gary Holt signature guitar or EXODUS guitar (at the end of the tour, Gary Holt will personally call the winner himself to announce that they've won!)
Adds Gary Holt, guitarist for EXODUS and filling in for Slayer's fallen guitarist Jeff Hanneman, "After the way incredible and seriously awesome but short run with Suicidal Tendencies and the mighty Slayer, EXODUS are happy to once again be a part of this lineup, only this time… I get to kick my own ass with the double duty madness for a full tour! Insanity? Of course it is! Is it worth it? You fucking know it! Looking forward to this one in a big, big way! Last tour couldn't have gone any better, and this tour will prove to be more of the over-the-top awesome level of metal as the last run, but now only bigger and more intense! See you there!"
EXODUS w/ Slayer & Suicidal Tendencies
11/12 – Oakland, CA @ The Fox Theater
11/14 – Inglewood, CA @ The Forum
11/15 – Phoenix, AZ @ Comerica Theatre
11/17 – Oklahoma City, OK @ Coca Cola Bricktown Events Venter
11/18 – Austin, TX @ ACL Live at the Moody Theater
11/19 – Grand Prairie, TX (Dallas) @ Verizon Theatre at Grand Prairie
11/21 – Orlando, FL @ Hard Rock Café/Hard Rock Live
11/22 – Atlanta, GA @ The Tabernacle
11/23 – Charlotte, NC @ The Fillmore
11/25 – Albany, NY @ Washington Avenue Armory
11/26 – Bethlehem, PA @ Sands Bethlehem Event Center
11/28 – Worcester, MA @ The Palladium
11/29 – Montclair, NJ @ Wellmont Theatre
11/30 – Upper Darby, PA (Philadelphia) @ Tower Theater
12/2 – Cleveland, OH @ Agora Theatre
12/4 – Indianapolis, IN @ Egyptian Room at Old National Centre
12/5 – Detroit, MI @ The Fillmore Detroit
Stay tuned for more information on the brand new album from EXODUS, entitled Blood In Blood Out, hitting stores on this fall via Nuclear Blast.
Please note that the European Tour with Onslaught and Artillery has been CANCELLED. Sincere apologies for the inconvenience.
Steve 'Zetro' Souza explains it all in this exclusive interview with Dave Halbe for MetalRecusants.
As you have already heard, Steve is back with Exodus, but will continue with Hatriot, he stated in a recent interview with MetalRecusants: "I want to repeat again that even though I'm in Exodus now I'm still doing Hatriot, I'm not letting that go, there's been a lot of voices out there lately saying I'm gonna let it go and I'm not. The band's (Hatriot) working on some new stuff right now and I plan on writing new lyrics when I'm out on tour with Exodus, Suicidal Tendencies and Slayer. There's a lot of down time on tour and I'm an early riser, I'm used to it from working, I'm up at 6:30-7:00 in the morning every day. There are only so many movies you can see, tracks you can run, you know?"
Please help me wish Steve a very Happy Birthday (March 24th) !!!
Hatriot confirmed for Thrash Invasion Tour 2014 with Onslaught & Artillery
Update, 6/25/14: Please note that this tour has been CANCELLED.
Hatriot will be hitting the road in July with Onslaught and Artillery for the 'Thrash Invasion (UK/Ireland) Tour 2014′!
Check our the 'Tour Dates' section of the site for more info.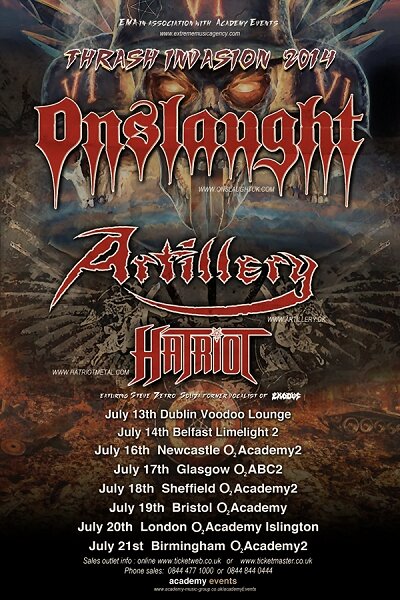 Hatriot "Dawn of the New Centurion" out February 21st, 2014 on Massacre Records!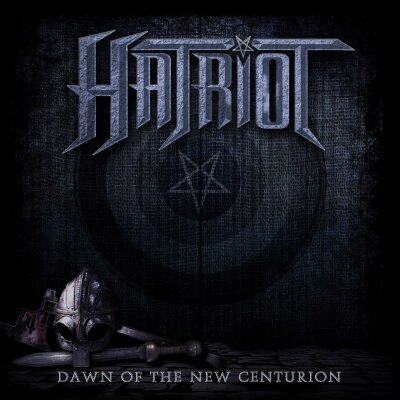 Via Massacre Records:
The band once again teamed up again with producer Juan Urteaga and Mark DeVito, who created the artwork of "Dawn Of The New Centurion"!
Track list:
1. From My Cold Dead Hands
2. Your Worst Enemy
3. The Fear Within
4. Honor The Rise And Fall
5. Superkillafragsadisticactsaresoatrocious
6. Silence In The House Of The Lord
7. World Funeral
8. Dawn Of The New Centurion
9. Consolation For The Insane
"Dawn Of The New Centurion" will also be available as limited edition digipak with exclusive bonus track as well as limited edition vinyl LP in gatefold sleeve (500 hand-numbered units).
Additional Links to purchase "DOTNC" in various formats:
The Metal Merchant
EMP
Nuclear Blast Online Shop
Amazon Digi-CD
Amazon CD
Amazon LP